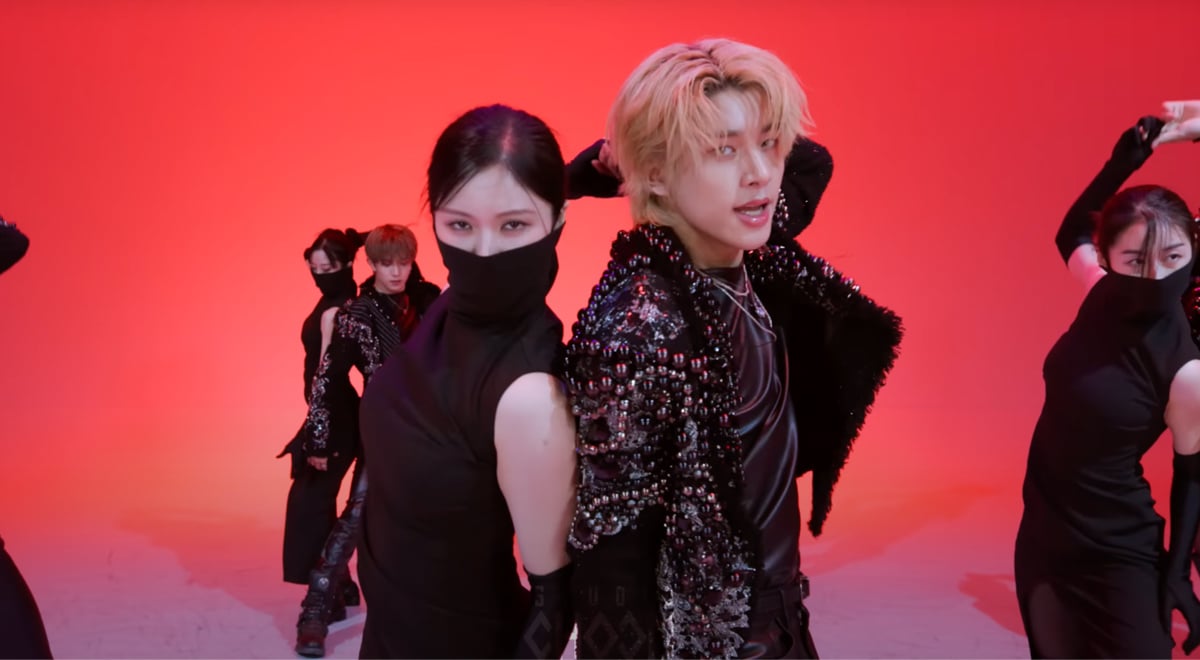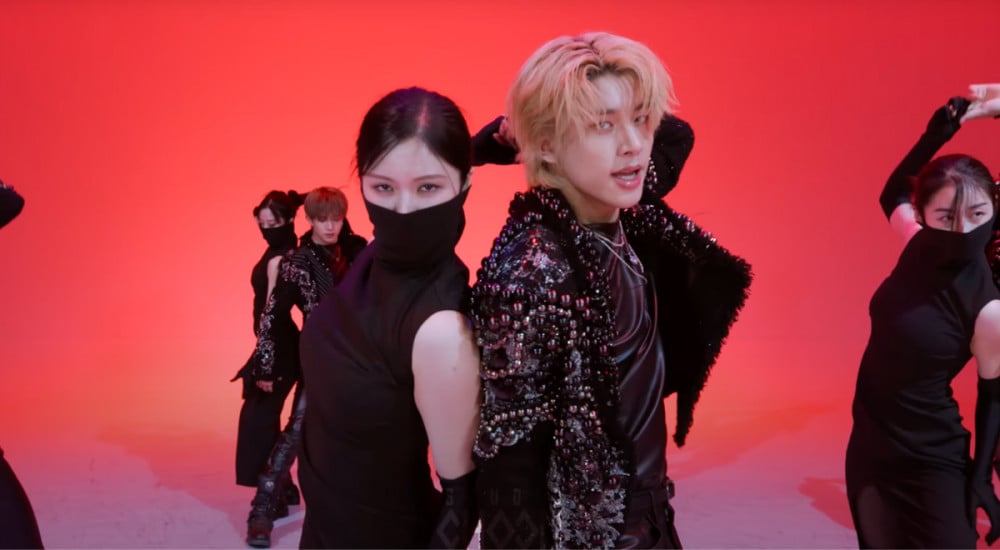 Some ENHYPEN fans decided to engage in mass protests against BeLift Laboratorydemanding that the choreography of the band's final title track"Bite me"to be changed.
ENHYPEN recently announced their comeback on May 22nd with the release of their 4th mini album 'DARK BLOOD' and its title track, 'Bite Me'. At the same time, the popular dance content channel STUDIO CHOOM released a teaser for ENHYPEN's upcoming performance video, giving fans a glimpse of the live choreography for the first time.
In the video teaser for the choreography, the members of ENHYPEN interact with masked dancers. Of course, some fans who attended ENHYPEN's comeback showcase also had the chance to witness the live choreography in person.
Soon after, some fans problematized the "Bite Me" choreography for its interactive components with female dancers, finding several parts "suggestive".
A joint statement released by "ENGENE" on May 23 stated, "ENHYPEN is still a young group that has not yet celebrated its 3rd anniversary since its debut, and the average age of the team is 19.6 years old, including members who are still minors. It is still too early in their career to pull off choreography that crosses over as old and suggestive." The statement went on to ask, "ENGENE requests that all choreography involving female dancers be removed from the 'Bite Me' performance. Beginning with the pre-recorded scene for the May 25 broadcast of 'M! Countdown" which will be filmed at 2:30 a.m. KST, show us a performance consisting of only the 7 members of ENHYPEN. If the problem is not fixed, we will respond with an additional organized action.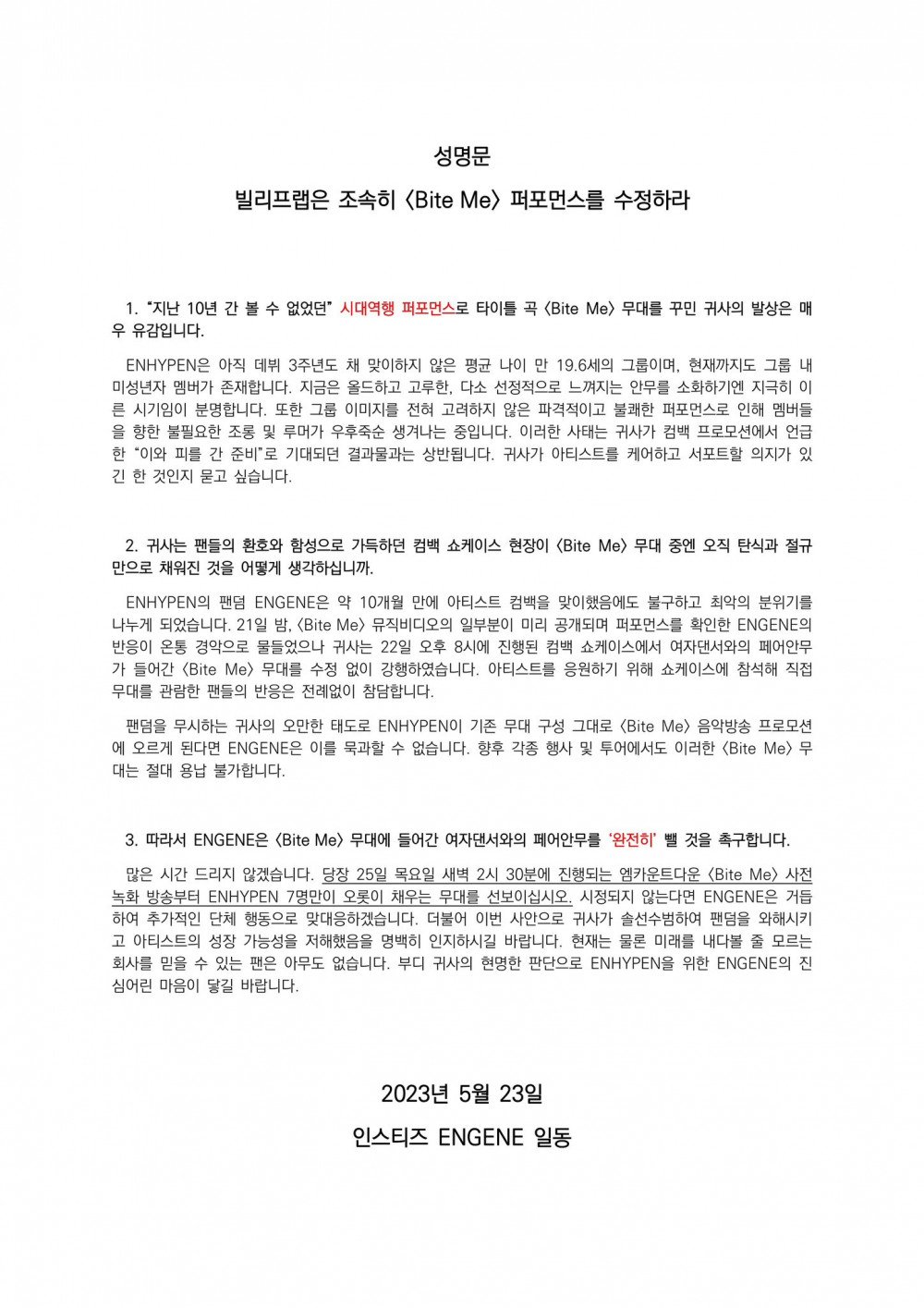 On the morning of May 24 KST, fans started a truck protest in front of the HYBE Building which read, "BeLift Lab treats fans like fools. It's a company that stands in the way of its artists' success. It's a company that has no desire for improvement. It's the HYBE label with the worst creative sense ."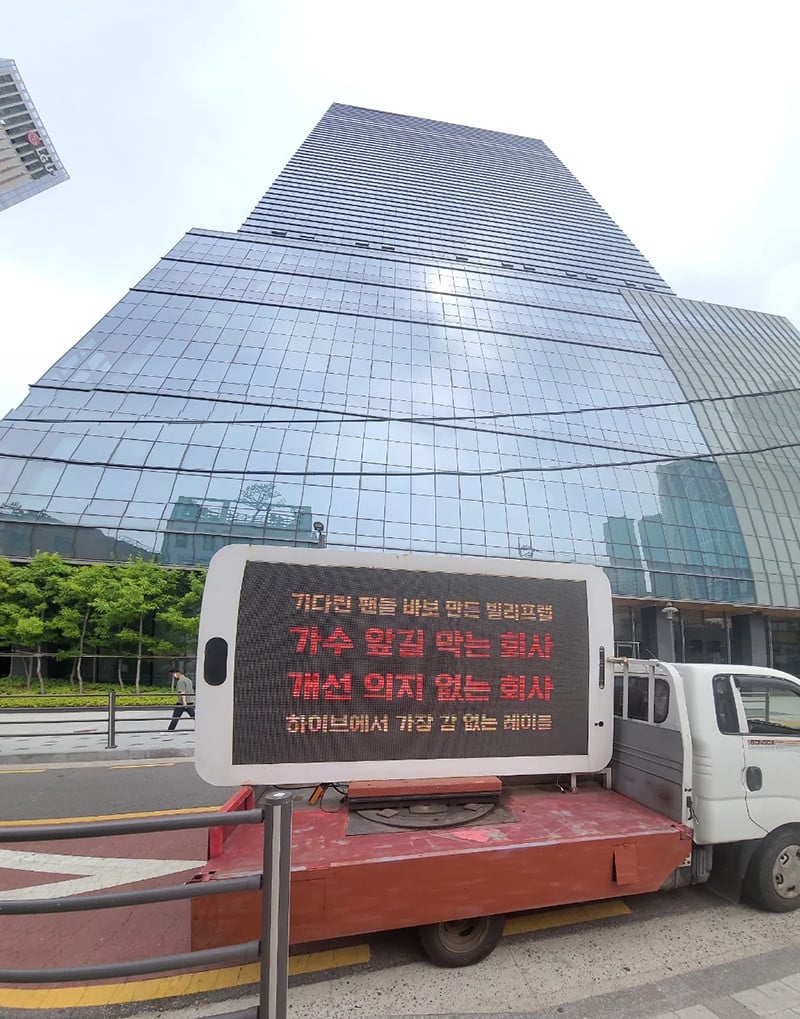 Other netizens have added their own comments on online communities, such as, "If you watch the live performance in person, it's so painful", "Why would fans pay to see their idols dancing with women on stage…", "The choreography is ugly. It doesn't let members shine"etc
What do you think of the current problem?