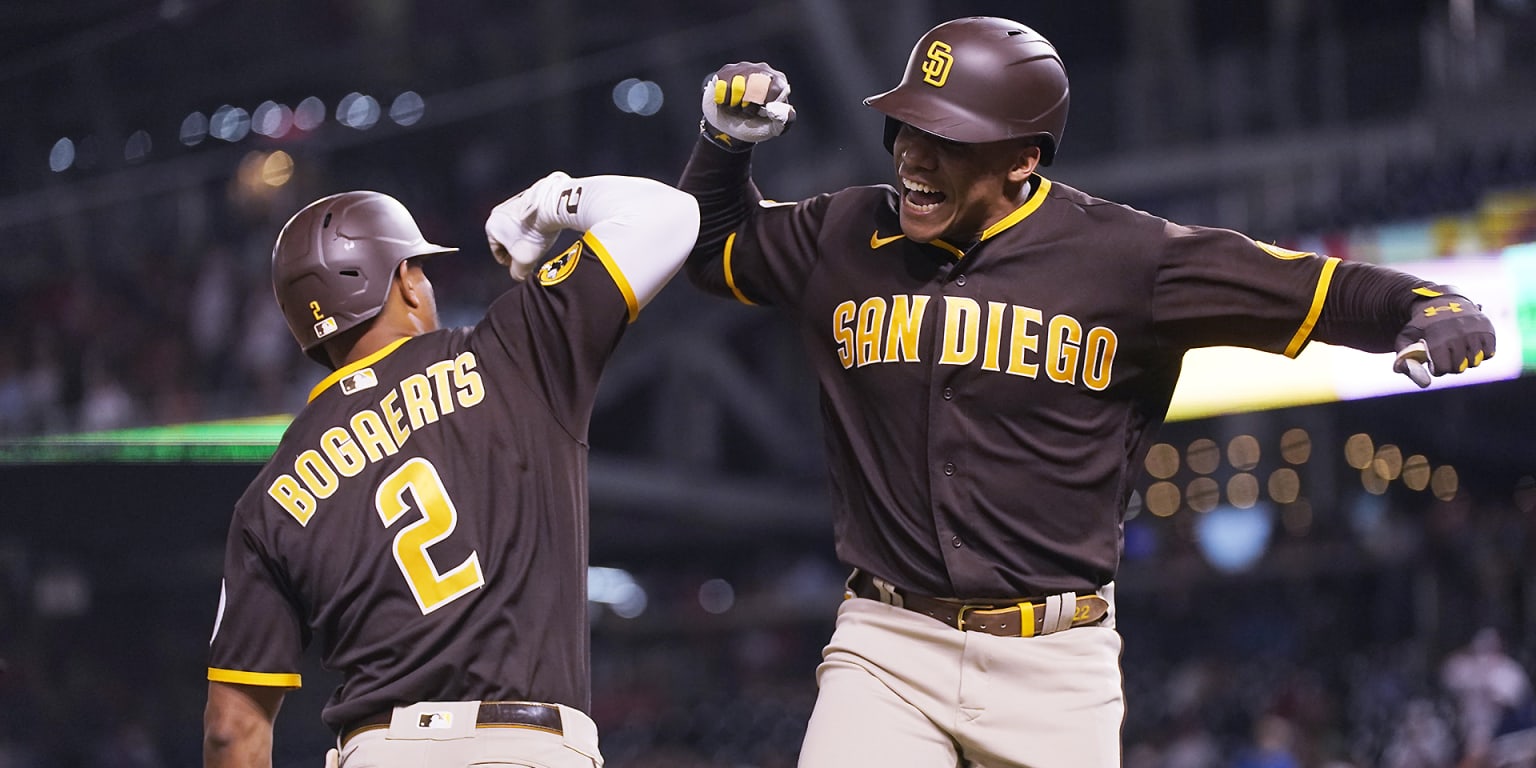 WASHINGTON — Returning to his first major league home game Tuesday afternoon, Juan Soto took the field early at Nationals Park so he could catch up with some of his former teammates and coaches. They all did a little reminiscence. Soto also had a message for them.
"When it's game time, I play for the team I have on my chest," he said. "So I don't care about (the Nationals ties) then," I told them.
"I told them, 'I'm going to homer them.'"
And Juan Soto is a man of his word.
Or as Padres manager Bob Melvin said, "He's just good."
This isn't the first time Soto has returned to Nationals Park since the blockbuster deal that brought him to San Diego at last summer's trade deadline. But it was still clearly a meaningful meeting.
Before the game, Soto spoke fondly of his time in DC, where he won the 2019 World Series and earned a batting title, three Silver Sluggers and two All-Star appearances. Before his first at bat, Soto received a standing ovation from the Nationals Park crowd. He came out to raise his helmet to the fans, and the ovation only grew.
"That's where it all started," Soto said. "That's where my dreams began. It's amazing to get into this box, even though I'm on another team.
Soto was quick to remind those fans what they were missing. Swinging the first pitch, he doubled a 113.8mph single from southpaw MacKenzie Gore – a former Padres top prospect and one of the players Soto was traded for.
Soto's seventh-inning homer against Erasmo Ramírez was the 50th of his career at Nationals Park — but his first as a visitor. He readily admitted his emotions were different on Tuesday than they were last August when he played for the Padres at Nationals Park for the first time.
"Certainly last year was a bit more emotional," Soto said. "This year was emotional, but it was more, like, happy. I felt happier instead of being sad about being traded or something. I was more excited to be there, to play for those fans.
He put on quite a show too. The de Soto homer left his bat at an exit speed of 113.1 mph. Coupled with his first-inning single, it was the first time he had burned two balls hit at 180 mph or more in the same game.
"He's a smart guy," said Ramírez, Soto's teammate last year. "He knows who throws. So it will work depending on what you throw at it. And every time he sees a mistake, he'll just do what he did today with me.
After rounding the bases and just before stepping onto home plate, Soto looked into the Nationals dugout and smiled. He later revealed that he was specifically looking to nab coach Henry Blanco, who was close to Soto during his time at DC.
It was Blanco, more specifically, who Soto called his shot for.
"(Blanco) asked me if I wanted to carier," Soto said. "I told him 'No'. … I told him I'm going to hit a home run and watch it.
Soto's outburst gave San Diego a 5-3 lead, and after a Xander Bogaerts single, Jake Cronenworth opened the game with a two-point shot. The Nationals had rallied to tie the game with a fifth-inning three-run rally that included a two-run homer from shortstop CJ Abrams — also part of the Soto trade.
The Padres responded quickly — the kind of response they haven't received often enough in their struggles over the past few weeks.
"It was awesome," Cronenworth said. "It was the first time we had done this in a while."
The Padres still haven't resolved their RISP issues; they went 0 for 9 with men in scoring position. But they have now scored seven points in consecutive games, despite going 1-for-19 with RISP in that span.
Of course, they hit four homers on Tuesday, which helps. In addition to Soto and Cronenworth, Bogaerts and Brandon Dixon also went deep.
Then again, only one of those four Padres homers drew cheers from Washington fans. Those fans won't soon forget Soto's exploits here.
"A lot of wins, a championship – I mean there are a lot of great memories," Soto said.
And he insists on making new ones.