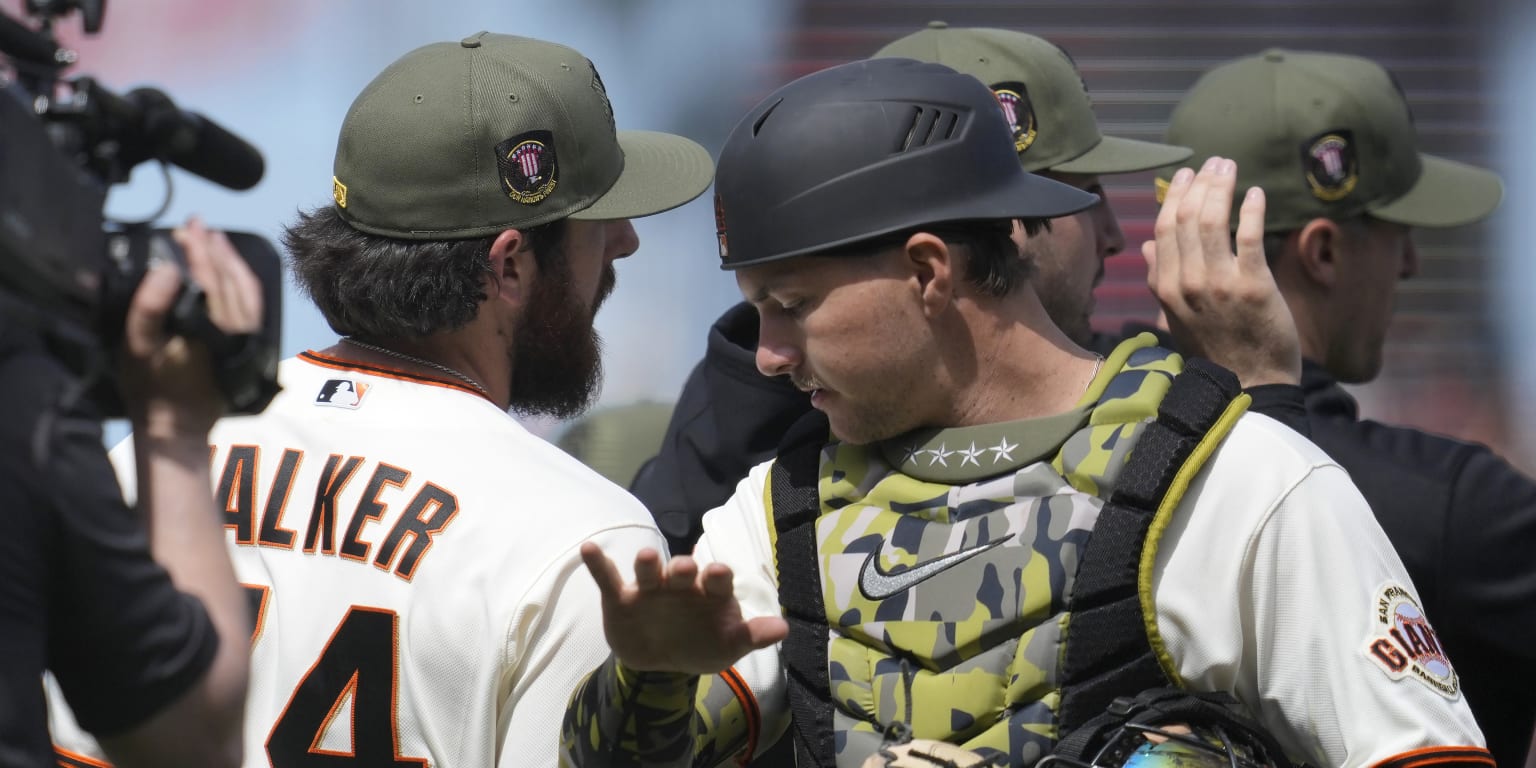 SAN FRANCISCO — The two new Giants reached major milestones in a 7-5 win over the Marlins on Sunday afternoon at Oracle Park.
Catcher Patrick Bailey threw his first career home run in just his second start, while right-handed reliever Ryan Walker picked up his first win after working a scoreless sixth inning on his Major League debut.
JD Davis also went deep and hit in a pair of runs to help the Giants (22-24) earn their second straight series victory and earn a 5-1 homestand against Miami and Philadelphia.
Bailey, the Giants' No. 11 prospect by MLB Pipeline, and Walker are the latest recruits to come in and make an instant impact for San Francisco, who also received a huge boost from infielder Casey Schmitt (prospect No. 3), who went 2 for 4 with an RBI on Sunday to increase his batting average to .383 with a .979 OPS in his first 12 games.
"I think you should always expect young players to go through ups and downs and struggles," manager Gabe Kapler said. "It's always nice when they have the tops first because it sets the tone and brings a lot of energy to the ballpark."
The Giants entered Sunday with a .653 OPS against left-handed pitchers, who ranked 28th in the Majors, but got an early spark from switch-hit Bailey, who smashed a 98-mph fastball from Marlins Jesús Luzardo. to left center field to tie the game, 1-1, in the second.
Bailey's homer exploded off his bat at 107.4 mph and traveled a throw of 423 feet, according to Statcast. While Bailey is considered a better hitter on the left side, his first two hits came from his natural right side.
"It was crazy," said Bailey, who made his Major League debut on Friday. "Being able to kind of get through all the stages in one weekend and just settle in, that's pretty cool."
Bailey then went from one extreme to the other, laying down a safety bunt to score Mitch Haniger from third base and extend the Giants' lead to 6-4 in sixth. Yet the 23-year-old also made a rookie error in the ninth, making an errant throw to first base that allowed the Marlins to score an unearned run closer to Camilo Doval.
Southpaw Alex Wood allowed four runs on six hits in 4 1/3 innings, with most of the damage coming from a pair of home runs to Jorge Soler and Nick Fortes. Wood is yet to complete five innings in six appearances this season as Kapler once again gave him the quick hook by bringing in right-hander John Brebbia to face Soler after the Marlins put two one-out runners in the fifth. .
Wood left after throwing 74 pitches, prompting him to shake his head as he walked back to the dugout.
"It's hard because you feel like you can't throw anymore," Wood said. "It's like, 'Throw five perfects or get ripped off on the fifth.' It's frustrating."
Brebbia gave up a single equalizer to Soler before making way for Walker, who was called up with Bailey on Friday after recording an 0.89 ERA in 15 Triple-A Sacramento appearances.
Walker, a 31st-round pick from Washington State in the 2018 MLB Draft, had been looking forward to his debut all weekend as he hoped for a chance to pitch past his wife, Alexis, a native of San Francisco, and his family. He finally got the call in the sixth, working around two field singles to post a clean inning.
"It was good," Walker said. "Obviously a little nervous like anyone else, but I felt controlled and just played my game."
"I think he did a great job," Kapler said. "It's not easy to come out in this situation – draw, play on the line – and deliver strikes. We know if he throws shots he will be really good. He's super deceptive. The balloon comes out quite hot.
Walker, who peaked at 98mph via his funky crossfire delivery, returned to the mound for the seventh, but was pulled after giving away a lead single to Xavier Edwards. Jakob Junis and Doval combined to pitch the last three innings out of the bullpen for the Giants, which posted a 1.33 ERA over six home games.
The Giants have enjoyed more success at home (15-11) than on the road (7-13) this season, but they'll be hoping their recent infusion of youth continues to carry them as they begin a seven-game swing at through Minnesota and Milwaukee on Monday.
"It's a good spark," Wood said. "It's been a lot of fun watching these guys. Any help we can get is always welcome. I hope these guys continue to play well and continue to start well.