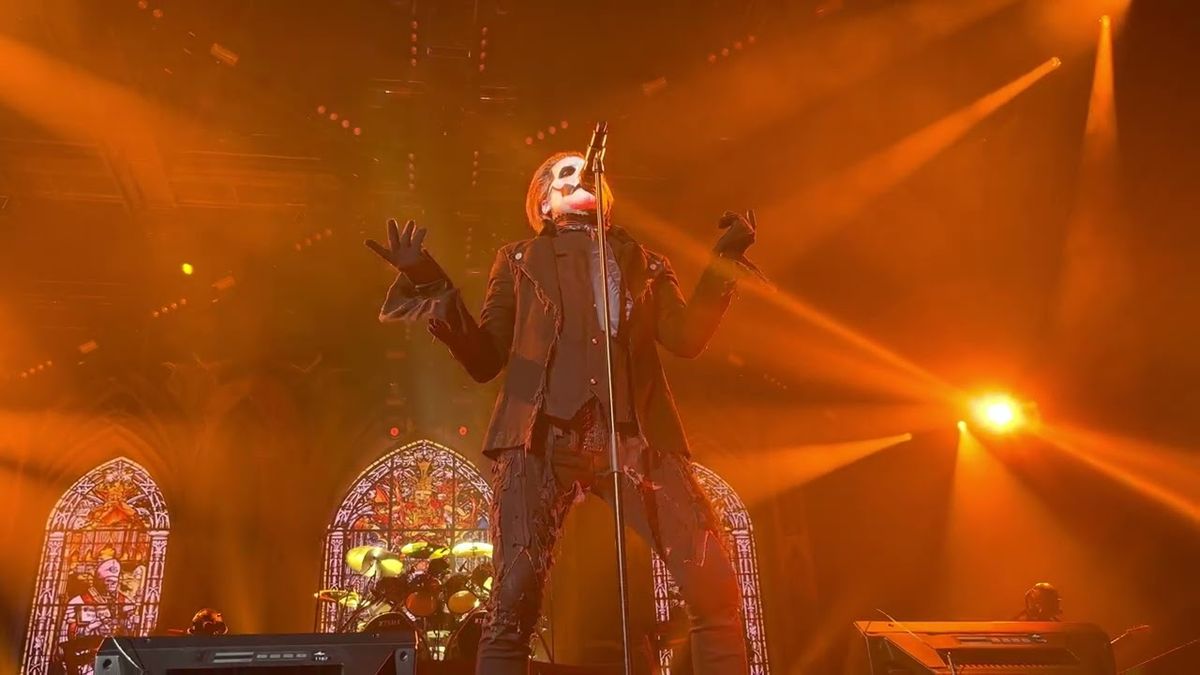 This weekend, Ghost performed their cover of Genesis' Jesus he knows me for the first time on stage.
The show took place on May 21 on the opening night of their 2023 tour at Zénith de Rouen, France.
The Swedish occult rockers shared the TV Evangelist as a single on Easter Sunday (April 9) last month, as featured on their new covers EP. Ghost.
As well as Jesus, he knows me, Ghost also debuted Respite on the Spitalfields for the first time, taken from the chart-topping album of 2022 reign, which was played as the last song.
Other tracks included in the 20-track set were show openers Kaisarion And Rats, followed by Faith, Weirs, Cirice, Hunter's MoonAnd Mary on a cross, among others.
Speaking of the Genesis track cover during a conversation with the French group FIP Metal, the leader Tobias Forge explains: "Jesus, he knows me, the original, is obviously very fast, but it looks like they're playing it with flower sticks – very, very soft.
"And most of the stuff that I've done my version of, or our version of, most of the stuff, the components are in the original song, but they're just played in a very, very subdued way (in a way)… It was the guide throughout the recording – just to make it as energetic as possible."
Ghost is currently in the middle of their tour across Europe in support of the 2022 Impera. Starting August 2, they will then be venturing onto their Re-Imperatour American tour with Amon Amarth as special guests.
Watch the performance and check out the full setlist below:
Ghost setlist 05/21/23:
1. Kaisarion
2. Rats
3. Faith
4. Weirs
5. Circe
6. Hunter's Moon
7. Jesus He Knows Me (GENESIS cover) (live debut)
8. Ritual
9. Call me little sun
10. Con Clavi Con Dio
11. Watcher in the Sky
12. Year Zero
13. He is
14. Miasma
15. Mary on a cross
16. Mummy Dust
17. Respite On The Spitalfields (live debut)
Discuss the Ghost EP with NME in April, Forge revealed that the project "would give a glimpse of where I want to go with the band now."
He added: "It doesn't mean that all of a sudden we're going to sound like television! It just means that there are practical things in there that inspired me to record this EP in a slightly different way than I did before.
Although the covers chosen for the EP may seem somewhat "dated", the frontman notes how the political throwback to "medieval times" in the West is what influenced his creative choices. "All that seemed dated a few years ago," he explains. "Whereas now everything that we sing about on this song, everything that this song is about is actually right next to what I write in my own material.
"What I'm writing is a very contemporary commentary on essentially a movement within the free Western world that wants to flatten the Earth. This movement wants to regress the world and return completely to medieval times. I don't know what it is, it's just stupidity!